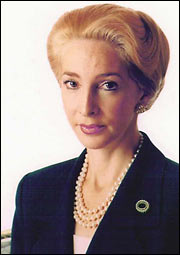 Workshy Lady Judge: can only manage a two-day week
The National Audit Office (NAO) is to investigate the nuclear body chaired by a businesswoman with 30 other directorships which was last year fined £2 million after a leak at the Dounreay plant in Scotland.
The inquiry is to be launched after a request by Edward Leigh, the chairman of the Commons public accounts committee.
He intervened after The Daily Telegraph disclosed last week that Lady Judge, who is paid £60,000 a year for a two-day week as head of the United Kingdom Atomic Energy Authority (UKAEA), has a string other posts including in the United States and Hong Kong.
Last month the UKAEA announced checks on the medical records of 20,000 deceased workers after the disclosure that its Sellafield site had stored and tested body parts of some workers between 1962 and 1991.
Last year, the UKAEA was fined £2 million by the Nuclear Decommissioning Authority after 58 gallons of radioactive fluid spilled at the former reactor in Caithness.
No employees were exposed to radiation during the incident but the plant was temporarily closed.
It was fined £140,000 after releasing radioactive particles into the sea and illegally dumping radioactive waste. The breaches happened more than 20 years.
Lady Judge, 60, in addition to her 29 posts, is deputy chairman of the Financial Report Council, which monitors whether British companies are being run properly.
A spokesman for the Department of Trade and Industry said: "The department is more than satisfied that Lady Judge gives sufficient time to perform her role alongside her other duties.''
Norman Harrison, the chief executive of the UKAEA, said: "Lady Judge works extremely hard and gives much more than the two days a week for which she is paid.
"She makes a very substantial contribution to the running of the organisation and is extremely effective."
By Andrew Pierce
Daily Torygraph