For telling the world that Israel had nuclear weapons, Mordechai Vanunu spent 18 years in prison, 11 of these in complete solitary confinement. Although released in 2004, he remains subject to stringent restrictions and is unable to leave East Jerusalem or communicate with journalists or foreigners.
The ride demands complete freedom for Vanunu, for his vision of a nuclear free Middle East to be fulfilled and for an end to nuclear weapons world wide. The Freedom ride also supports, as Vanunu does, freedom and justice for the Palestininian people.

http://www.vanunufreedomride.org.uk/
Boycott days of action: We will be having a monthly event to promote the Boycott Israeli Goods campaign and opposition to the occupation. Next Boycott day, outside the Sheffield Town Hall: Saturday April 14th; 3.30 til 5pm To coincide with the Vanunu ride arrival between 4.30 and 5pm. Please come along and join our action and leafletting.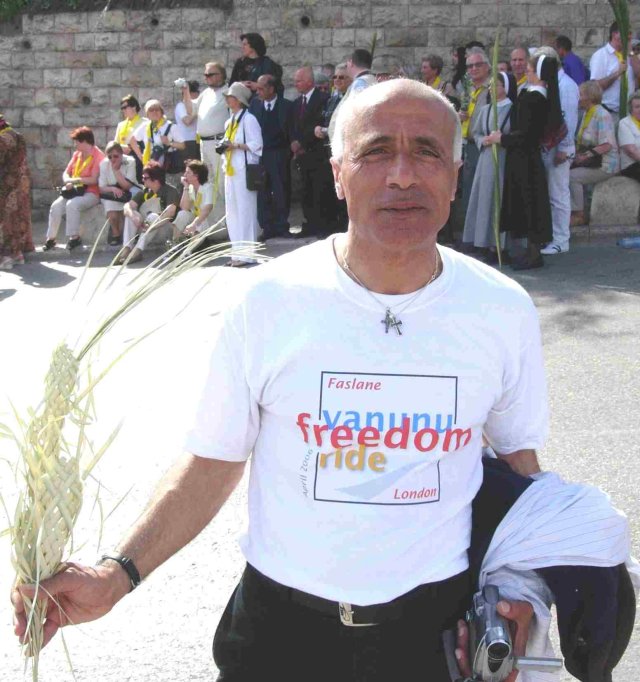 Mordechai Vanunu
Sheffield Freedom ride events
Leeds to Sheffield leg, via Wakefield: Saturday 14th April, arriving in Sheffield city centre sometime during the late afternoon to a welcome rally. Cyclists are invited to join the ride on its route from Leeds, (setting off from Leeds city centre, then onto the Trans Penine Trail at the Royal Armouries Museum, and cycle with the riders down to Sheffield. The provisonal route is via Wakefield and Barnsley, following fairly closely the Trans Penine trail route (but maybe using nearby roads rather than the off route route for much of the way). pelase join us either in Leeds, Wakefield or at Meadowhall shopping centre, just outside Sheffield. We will be riding into Sheffield past Meadowhall, and a meeting point will be arranged there for cyclists wishing to join us there.
On Saturday evening a Vanunu Freedom Social will be held at St Matthews rooms, Carver St, Sheffield city centre) where there will be food, a film showing about Israel's nuclear weapons and a chance to find out more about the campaign. £6.50/ £5 or £3 school students on the door.
On Monday 16th April the cyclists will set off from Sheffield city centre en route to Nottingham. Sheffield cyclists are welcome to join the ride on its way to Nottingham.
Sheffield to Nottingham leg: Monday 16th April: We will leave from Sheffield city centre, cycle out to Owler Bar on the A621 and on to Baslow, through the Chatsworth estate, Beeley and then down the A6 through Matlock and Matlock Bath. We will be stopping for lunch at Scarthin cafe, Cromford and supporters are welcome to join us there, from about 12.30 p.m. We will then carry on down the A6 to Belper and onwards to Nottingham city centre where the ride will be met at the university.

http://www.sheffieldpsc.org.uk/drupal/vanunu_freedom_ride_2007
See also this report from last years ride from Faslane to Oxford:

http://www.indymedia.org.uk/en/2006/04/338752.html