Shell Gas offices near Chesterfield were occupied today, while a simultaneous noise demo outside woke up Shell staff to our feelings about the multinational's abuse of the Rossport people and their environment.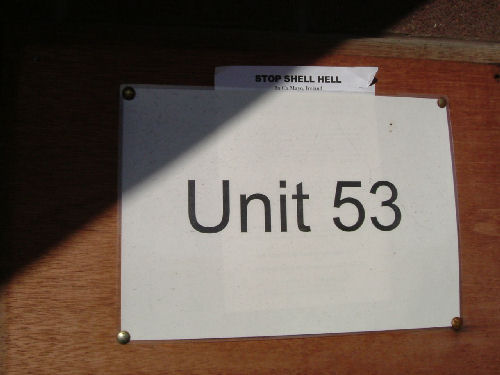 Shell don't have a sign in their building -why?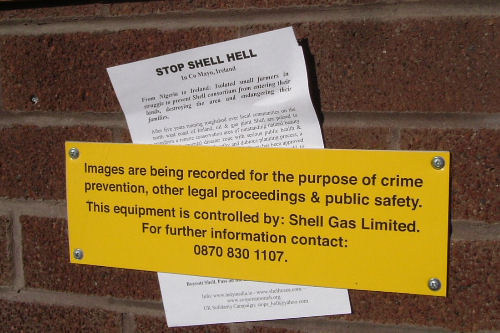 But give the game away with a warning nearby!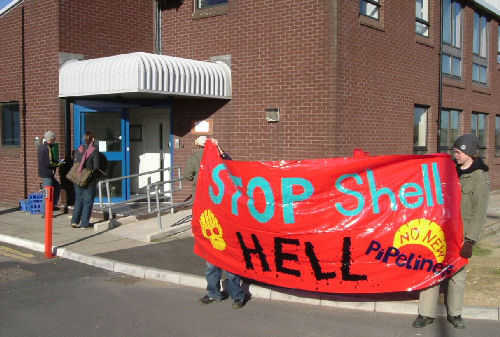 Can our friends come out to play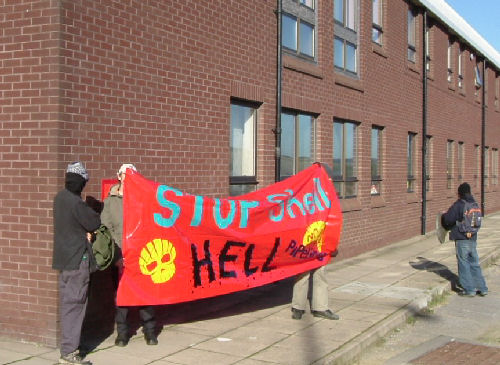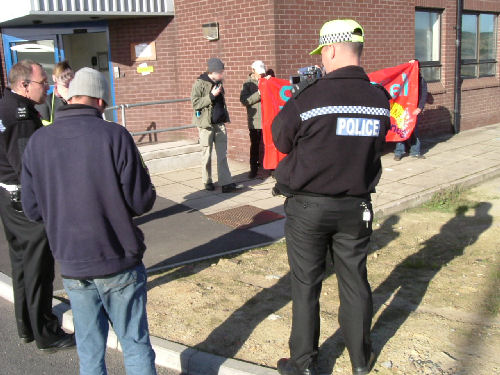 OK officer - you did ask if you'd be on Indymedia again
Campaigners had to use sophisticated techniques and technology to overcome the electronic door security and gain access to the building. So they found an old cardboard box and wrote the address of the office on it with felt tip. They then, cunningly, rang the doorbell and said they had a delivery, at which point the door was opened and the protesters walked in.
Meanwhile the banner was unfurled outside the building and the noise started up. What wonderful tunes the protesters played on their hooters, dustbin lids, whistles and sirens. The glorious music was so attractive that Shell staff stopped work to peer out of the windows and read the banner. So any Shell staff in the building, who had not been given a leaflet by the occupiers, certainly got the message.
After about 30 minutes the protesters took a 5 minute break to eat homemade flapjack and generally mutter about the slow response times of the local constabulary. They finally turned up with their video camera after about 45 minutes so we gave them another 15 minutes of music before heading off.
Shell should be on notice that we will are fully behind the people of Rossport in their struggle against the greedy fatcats at sHELL.
For more info see: -
www.indymedia.ie
www.shelltosea.com
www.groundwork.org.za/Pamphlets/Shell.asp