Video of a talk by Craig Murray [former British Ambassador to Uzbekistan], Legality, Morality and the War on Terror, recorded at Sheffield Hallam University on 9th October 2006.

Craig Murray: Legality, Morality and the War on Terror - video/mpeg 175M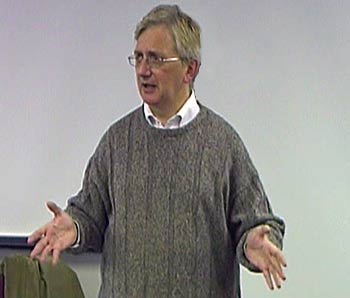 Craig Murray in Sheffield
A very interesting presentation on the "War on Terror" and the slide into fascism.
See also, No to Torture - former British ambassador to Uzbekistan speaks out against UK/US torture collaboration, mp3's of Craig Murray recorded at the Edinburgh Independent and Radical Bookfair on Friday, 13th of October 2006:

http://www.indymedia.org.uk/en/2006/10/353898.html
For more info see Craig Murray's web site:

http://www.craigmurray.co.uk/
This is a 177M mpeg -- we will try to get some other (smaller) versions up if this
This works in mplayer and xine on linux, please post a comment if you have a problem with it.
If you want a DVD version please contact Sheffield Indymedia.