Corporations are currently eagerly offering solutions to the very problem that they have created: climate chaos.
Corporate Watch looks at several corporate aspects of the most pressing challenge facing the world today: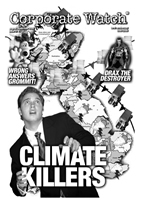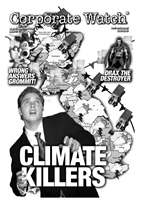 DRAX THE DESTROYER
It is difficult to overstate the case with climate change. There is no bigger issue. Calm and informed voices - even David Attenborough's - are saying it is the greatest challenge humanity has ever faced. Indeed, it could even be the last.
Next month, the Camp for Climate Action plans to kickstart a campaign of radical protest on climate change with direct action against Drax power station in Yorkshire (which, hilariously and aptly, has a namesake in Marvel Comics' Drax The Destroyer)

http://www.corporatewatch.org.uk/?lid=2711
IT'S THE WRONG ANSWERS, GROMMIT!
The UK will be building a new generation of nuclear power stations, calling nuclear power 'electricity without carbon emissions'. Various developments, including hydrogen, carbon capture, biofuels and cleaner coal are frequently trumpeted as 'the solution'.

http://www.corporatewatch.org.uk/?lid=2719
NORTH SEA RAIDER
Statoil is the Norwegian oil and gas production company who are behind the highly controversial Corrib pipeline in County Mayo, Ireland in conjunction with Shell. It also heavily involved in gas and power generation, not only in Norway but also globally.

http://www.corporatewatch.org.uk/?lid=2720
FOSSIL FOOD
Our food economy is heavily dependent on fossil fuels. Industrial agriculture uses vast amounts of petroleum-based pesticides and fertilisers. Enormous amounts of fossil fuels are also used for food processing, packaging, refrigeration, transport and retailing.

http://www.corporatewatch.org.uk/?lid=2713
BYE BYE PETROLEUM
With demand for oil soaring yet supply stable at best, the idea that oil stocks have 'peaked' is increasingly influential. So what are the latest theories around peak oil?

http://www.corporatewatch.org.uk/?lid=2714
EMPTYING THE SCEPTIC TANK
Climate change sceptics are a group of vocal, yet frighteningly influencial, individuals who appear regularly in the papers and on TV, lining up to deny there's any problem with global warming. However, even though much of their diatribe has been discredited, they're still around. Come out, come out wherever you are climate change deniers; your time's up.

http://www.corporatewatch.org.uk/?lid=2715
RISE OF THE OLIGARCHS
The G8 summit in Petersburg this month has set the seal on Russia's re-emergence as a world force, already underlined by its growing clout as an energy superpower. The oil monopoly Gazprom, for example, is now the third largest company in the world by market capitalization. Russian firms are therefore seeking mergers, acquisitions and investment opportunities in the West.

http://www.corporatewatch.org.uk/?lid=2716
--------------------
For Issue 31 see:

http://www.corporatewatch.org.uk/?lid=2723