The Matilda Social Centre in Sheffield has now been vacated and 111 Matilda Street is once again a empty building left to rot, RIP Matilda. The names of most of the bands that played the building in the last year have been painted in the windows and poems have been written and songs dedicated.
The final chapter in Matilda's story started on 14th June 2006, one year on from the G8 protests that were based in the Matilda Convergence Centre, Yorkshire Forward, the owners of the building, tried to evict the social centre on health and safety grounds but this was resisted and the building was squatted. The events of the day were reported on BBC Radio Sheffield.
The squat didn't last long however, "30 persons unknown" were due in court for tresspass on Thursday 22nd June at Sheffield County Court and pages from this web site were cited as evidence. There was a protest outside but the case was lost — the judge awarded possession for Yorkshire Forward and their agents asked that the building be vacated by 9am on Tuesday 27th June.
An open letter was written to Jan Wilson, the leader of Sheffield Council, about the eviction and people started to move things out of the building. There was no big farewell party and on Tuesday morning some people turned up for the handover of the building, it made page 2 of the Sheffield Star, but Yorkshire Forward failed to appear.
Several days after the Matilda Collective had abandoned the building Yorkshire Forward secured it and installed a 24-hour security guard and surveillance equipment.
In the end "the energy seemed to have flowed out of the Matilda collective and the will to resist had gone", much like in London where another social centre, The Square, which was facing eviction and resisted for a week before issuing a dissolution communique, "it very quickly became clear that there simply wasn't the energy to go on".
Some events that were due to take place in Matilda have been cancelled, others like the Indymedia "Summer of Truth" film festival have been relocated and some have yet to find a new home.
Matilda and the huge number of events that took place there won't be forgotten in a hurry and perhaps the moles of the Matilda Collective will reemerge somewhere else and reclaim another abandoned building...
[ Photos | German Report | Greek Report ]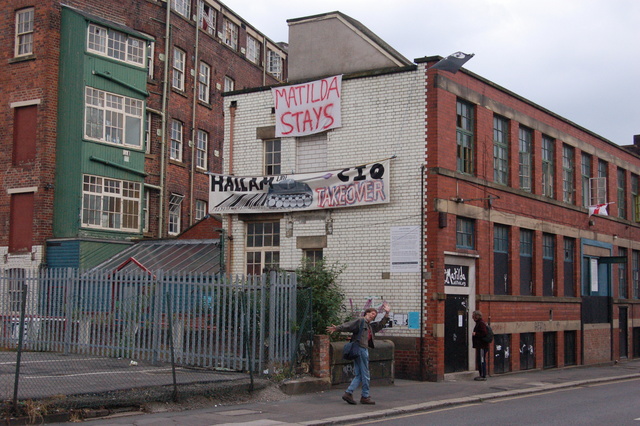 Matilda Stays