Peace in the Park is an annual free festival celebrating creativity, unity and understanding within the Sheffield community. The aim is to work towards peace and solidarity by bringing communities together through artistic, musical and vocal expression. Peace in the Park has been running for four years, driven by the efforts of many volunteers, and each year collects money for nominated charities.
This years Peace in the Park was the biggest yet as glorious sunshine and the enchanting surroundings of Sheffield General Cemetery brought in huge crowds [Photos: 1 | 2 | 3 ]. There was a live stage featuring a right good array of bands, an open-mic stage with a kalaidescope of acts, healing area with massage and yoga, kids area including mask making and drumming and an 'insect trail', a samba band, a film tent showing independent films and documentaries about local and global issues, ethical food outlets including a SpeakEasy with topical discussions, craft and information stalls offering opportunities to paint what you would do with £24 billion or play the asylum lottery or question a councellor or Bug your MP!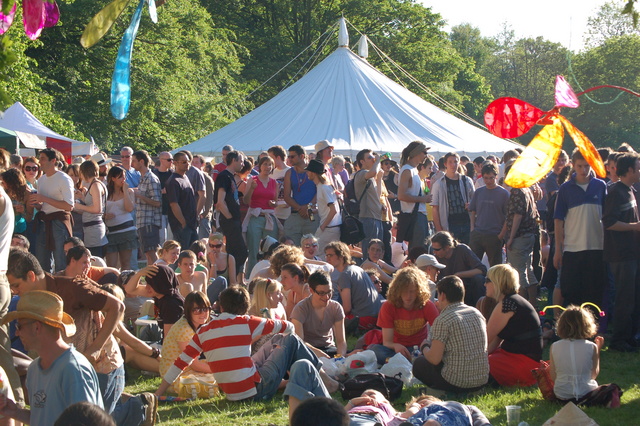 All money collected at the festival will this year be split between Heeley City Farm, a local environmental education project, and Goal, raising funds to provide essential facilities in refugee camps in war-torn Sudan.
The first Peace in the Park was held in 2003 on Devonshire Green in Sheffield City centre, evolving from opposition to the invasion of Iraq. The festival was distinctive in its aim of social change through music and entertainment, hosting a live stage and dance tent as well as childrens area and campaigning stalls. Although surrounded by images of the conflict this newborn festival did not yet have a clear link between the music on stage and the social movement driving it.
In 2004 the second festival was held in the lush Endcliffe Park, allowing space for an open-mic stage, healing area, democracy cafe and many more stalls. Money was raised for Sheffield ASSIST a charity supporting destitute asylum seekers, and WaterAid. With a wider involvement from the Sheffield community the festival was finding itself but needed the right space to give it shape.
The third festival was held on 11th June 2005 in the General Cemetery in Sharrow, bringing welcome attention to one of the most beautiful and un-spoilt green areas in central Sheffield. The festival was an endpoint to the anti-G8 demonstrations in Sheffield and the political mood was preserved in stalls, workshops and the acts on stage. More than £1500 was raised for the Archer Project, supporting homeless people in Sheffield, and Practical Action, which provides practical solutions to poverty all over the world
Peace in the Park has come of age and found a home. If you want to find out more about the festival or get involved for next year, e-mail: peaceintheparkfestival@yahoo.co.uk