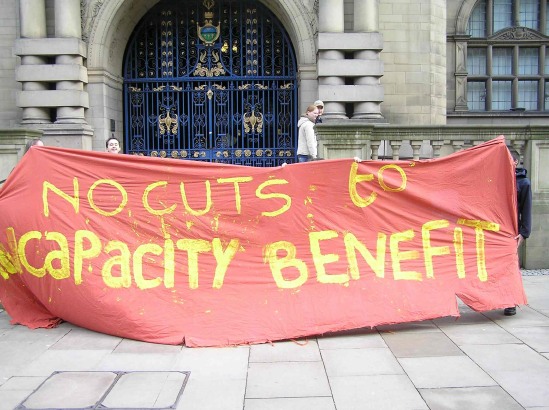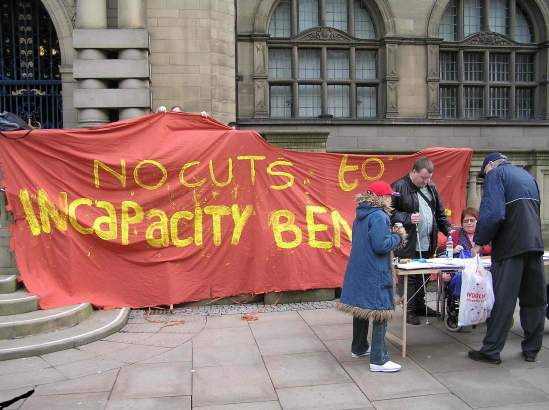 Protesting against the IB cuts with a big banner!
A small group of activists from Sheffield Welfare Action Network (SWAN) unveiled their new banner and aquired over 100 signatures for their petitition against the Gov't draconian Incapacity Benefit reforms.
The reforms
There is to be an even tougher and brutal regime for most on incapacity benefit (IB) (it is extremely difficult to claim IB now.) Benefits will be cut by over 25.00 and will only rise when a claimant (however ill/disabled) agrees to look for work, there will be even more stringent medical assessments and tougher requirements to seek work or lose benefit. Employment advisers will be placed in G.P's surgeries to 'spy' on the sick and the idea of 'forced medical treatment is being floated. Swan is already hearing from a number of disabled people who are terrified of these changes, they are saying that the 'disability benefits regime is almost unbearable now!
SWAN is campaigning vigorously against these reforms and calls on all allies, friends, etc to join us in the Sheffield and do the same around the country
excellent balanced summary of the changes here.

http://www.benefitsandwork.co.uk/benefits/unspun/36_employment_support_allowance.htm
Disability Alliance, challenging the myths,

http://www.disabilityalliance.org/ibfact.doc
Sheffield Welfare Action Network

http://www.swansheffield.org.uk
email

swansheffield@yahoo.co.uk
join the discusssion! send an email to

sheffieldwelfare-subscribe@yahoogroups.com