Sudan is on MSF's top-ten list of under-reported humanitarian stories of 2005. Students at Sheffield University has started a new group dedicated to advocate the work of Doctors Without Borders (MSF) and raise funds for various projects. Their first project was collecting for MSF's work in Sudan through various events.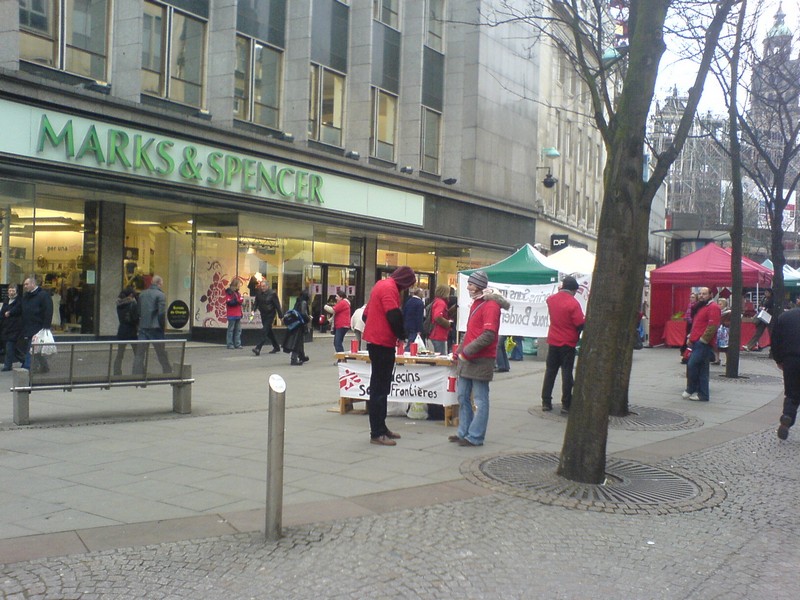 Members of Sheffield MSF Society collecting in Sheffield City Centre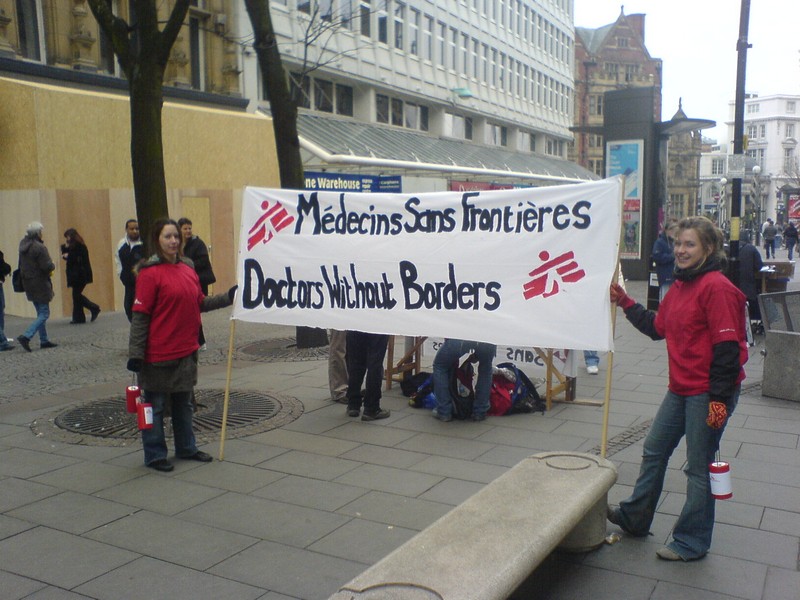 Members of Sheffield MSF Society collecting in Sheffield City Centre
Last year, according to an acclaimed report by Médecins Sans Frontières's (Doctors Without Borders, MSF), Sudan was among the top ten under-reported humanitarian stories; there is ongoing violence, a state of chronic instability, and only last month MSF responded to a severe Cholera outbreak in the south of the country. Nevertheless, none of this made it to the media.
A peace agreement was signed in January 2005, bringing Africa's longest-running civil war officially to an end. However, the crisis continues. MSF has been working in Sudan since 1979, and is currently tackling diseases like Malaria and Tuberculosis as well as the widespread malnutrition. Currently they have about 350 international and more than 4,500 national staff in Sudan.
Students at Sheffield University have started a group to raise awareness of the vital work of MSF and raise money for the cause. In the end of February, Dr Beresford who has worked with MSF, came to talk to more than a 100 students about her experiences with MSF in Sudan. This inspiring talk on challenges and rewards was the launch of the student group, but also the launch for their first campaign: To collect funds for MSF's work in Sudan. This campaign ran over three events: the talk, a joint hip hop event with Oxfam and a street collection on Fargate.
On March 18, members of the Sheffield MSF Society took to the streets of Sheffield (see attached picture; more available off our website), and the public kindly donated more than £640. This combined with proceeds from the hip hop event, and donations given at the speaker event, amounts to more than an amazing £1000.
Sheffield MSF Society would like to thank the people of Sheffield for the kind donations and interest shown in this worthwhile cause. £1000 can go a long way - for example £6 can cover 3 nourishing meals every day for a month to a child threatened by famine, and £9 can provide a month of clean water for 40 refugees.
The importance of the donations being private comes across obvious in the words of MSF logistics specialist Steve Hide:
"When someone points a gun at you and asks 'who sent you?' I can answer that it was people who care. This can mean the difference between life and death."
For any further contact or information on the work of MSF or the Sheffield MSF Society, please visit our website www.msf.union.shef.ac.uk, or email us on

sheffield.msf.soc@googlemail.com
.