Saving Iceland Gathering
Sheffield 21-22nd January 2006
Matilda Social Centre, Matilda Street Sheffield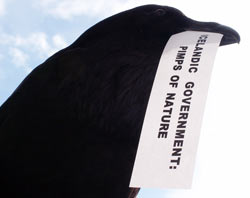 Pimps
Weekend gathering reporting back from the campaign to stop the Icelandic government and Alcoa destroying Europe's largest remaining pristine wilderness for aluminium smelters.
Workshops,films, plotting and presentations to prepare others interested in supporting the campaign in the lead up to the international gathering in Iceland in summer 2006.
Come along, get involved! It has already started. The Karahnjukar dam is under way....but it can be stopped!
Gathering programme to be announced. Fri eve to Sunday midday with catering co-ordinated by the lovely Matilda Cafe Collective.
For more info on the campaign see

http://www.savingiceland.org
Matilda