Mohammad Arrian, who has been living in Sheffield for the last three years, is scheduled to be deported back to Afghanistan on 17th January despite concerns that his life is danger if he returns. Twelve years ago Mohammad fled from Afghanistan, initially to Iran. Prior to fleeing Afghanistan Mohammad had spoken out against the regime then in power and his father was murdered for working for a previous Government. Mohammad believes that the Warlords currently in power in Afghanistan would kill him if they knew he had returned. Mohammad is currently being detained in Dover Immigration Removal Centre awaiting deportation. However, while Afghanistan has been deemed safe for Mohammed's return, the rest of his close-knit family in Sheffield have been granted protection and indefinite leave to remain in the country because of safety concerns about returning.
On Saturday 7th January, family, friends, colleagues and supporters of Mohammad Arrian assembled outside Sheffield Town Hall to express their belief that Mohammad is in grave danger if he returns to Afghanistan and to demonstrate their support for his right to asylum and to stay with his family in Sheffield. [Photos: 1 | 2] Before this family and supporters had sent a petition of 400 signatures to the Home Office to demand a rethink on the decision. There are other demonstrations planned ahead of the rapidly-approaching deportation date.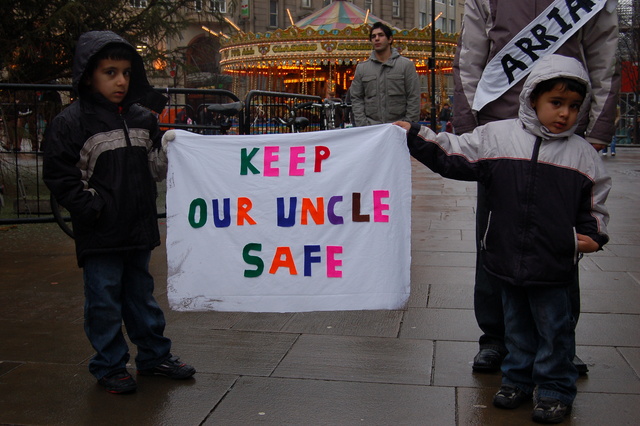 Mohammad Arrian - Keep Our Uncle Safe
Mohammad's local MP, Richard Caborn, has been pursuing the case with the Home Office. The Home Office have been reluctant to meet with Mr Caborn as they see no need for such a meeting. The Home Office have told Mohammad that they do not believe that there is a threat to his life if he is deported back to Afghanistan. This is while the UK Foreign Office ironically advises against 'all but essential' travel in Kabul and against all travel to other provinces in Afghanistan. The family of Mohammad Arrian is meeting Mr Caborn again on 12th January, and there is some last minute hope of a meeting with Tony McNulty the Minister for Immigration.
Mohammad's fears about forced deportation are very real. In November last year, the first forced deportations of fifteen Iraqi Kurds from the UK took place. On arrival in Iraq they were dumped at the airport, where some of them were promptly arrested by local police and as far as is known, not heard of since [Link to newswire item on UK Iraqi Kurds]. Mohammad is likely to have no help on his return to Afghanistan. "I will have no relatives, no friends, no job, no home if I have to go back - nothing. No support network, nobody to look out for me, I will be all alone," he says [reported in the Sheffield Star]