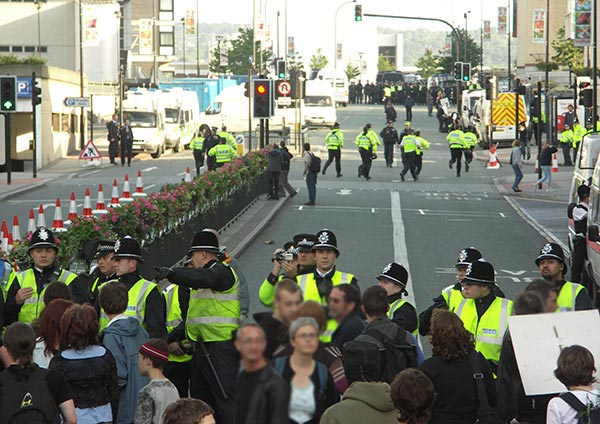 Police lines on Arundel Gate yesterday
ZIMBABWE DANCERS
A group of talented dancers from Zimbabwe were invited to entertain the G8 ministers yesterday evening at the Winter Gardens. However once they realised who they were performing for they wrote special songs along the lines of words mean nothing, only actions count. They later got the chance to talk to some of the G8 bigwigs and explained how ineffective the G8 policies were in helping their country. Later they joined protesters down at the convergence centre for a while.
MPH BANNER IN NETHER EDGE
Several anti G8 banners in Nether Edge, the suburb where the G8 are staying, have been spotted. There is one banner saying Make Poverty History almost directly opposite the police road block to the Marriot hotel where the ministers are staying.
KIOSK INCIDENT
Around 20 Manchester police were surrounded by protesters and backed up against the wall of a news kiosk at yesterday evenings protests. This was in response to their arresting a 16 year old lad for some trivial offence.
STALKING POLICEMEN
After this another prostestor was arrested after a group of 6 policemen stalked several people leaving the area. They passed by a fight breaking out between some Asian taxi drivers and whites, ignored it, and finally arrested the protester when well away from the area. The alleged crime was that he spat at them.
POLICE WITHOUT NUMBERS
Several Police officers were spotted without their identifying numbers by legal observers. When questioned persistently the officers were removed from the Police lines by senior officers.
FEMALE COP HAD HAND BROKEN
According to the BBC... and the Scotsman

http://news.bbc.co.uk/2/hi/uk_news/england/south_yorkshire/4097416.stm

http://news.scotsman.com/latest.cfm?id=4697462
THE HERALD REPORT SEEMS FAIR

http://www.theherald.co.uk/politics/41324.html
TERRORISM IS THE MAIN TOPIC (or, in other words, war and repression)
"U.S. Attorney-General Alberto Gonzales, speaking after his arrival in Sheffield, said fighting terrorism would remain the top topic for the G8 ministers to address."

http://www.alertnet.org/thenews/newsdesk/L1524281.htm
Latest reports from the media...

http://news.google.com/news?hl=en&ned=us&q=Sheffield+G8&btnG=Search+News