Update 10 August: After 21 days out, the longest bus strike for 30 years is over, see victory after 21 days.
A significant all out strike is under way by 800 bus drivers employed by First Bus, a major multinational with annual profits in excess of £160m, the strike has been solid as it goes into its second week.
Drivers are striking for a 40 hour week, a reduction of the maximum hours a day to eight-and-a-half hours and a quicker increase in pay for 'starter rate' drivers, who currently have to wait three and a half years to earn more than £5.85 an hour! Steve Clark, the regional organiser for the TGWU, says "Clearly we are in for the long haul".
Reports: 1 | 2 | 3 Photos: 1 | 2
LabourNet: 1 | 2 | 3 | photos
Background info: TGWU | last years strike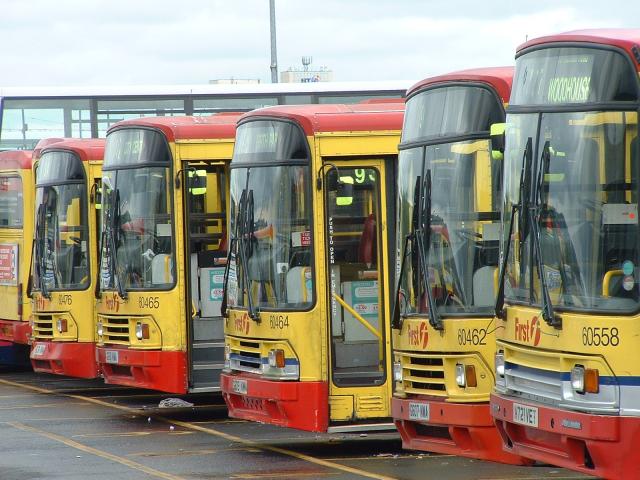 Buses in the depot
First Bus have already backed down on threats to use managers as scab labour after trade union solidarity actions across the country and hostile local press coverage. There have however been some suggestions that an all out strike unnecessarily impacts the public, compared to for instance running the buses as normal but not charging fares, which would solely hit First Bus.
On Sunday 25th, First Bus rejected the drivers' final bid to end the dispute and all talks have broken down. Drivers are paid 10 days in arrears so the first pay packet that is threatened is Tuesday 10th August. The TGWU has made an urgent plea for financial assistance and solidarity: "Dear Friends, Bothers & Sisters, fellow trade unionists and supporters everywhere! We need your support in any way you can!"