There was protest in Sheffield on Saturday 1st May outside Brighthouse, on The Moor, because it is a credit company that make huge profits by exploiting those people who don't have access to mainstream sources of debt finance. Brighthouse sell goods on credit at extortionate rates, and people who often have no other financial options end up paying double or more of the cost of the original product they buy. Brighthouse are not alone in this game, there are many more predatory lenders who profit from exploiting people who can not borrow money from banks, building societies and credit cards, and locking them further into debt. For example Provident Financial are a company who offer doorstep loans, where a typical loan could be £100 repaid at £5 a week over 30 weeks and the APR can be up to 170%!
The Sheffield Social Forum gave out a leaflet at the protest and music was provided by members of the Sheffield Samba Band and the poverty trap was illustrated with big mouse trap in a street theatre proformace. At the end of the flyering a number of protestors followed the Samba Band into the shop itself, to make the protest that little bit clearer to those inside.
Reports: [Photos] | [Sheffield Green Party: press release | photos] | [Sheffield Samba Band: photos]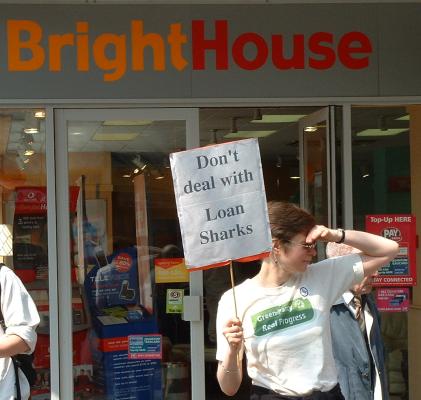 Don't deal with loan sharks
Borrowing from these sources can severely worsen the circumstances of people who are already coping with the burden of poverty level incomes. But this borrowing for many in unavoidable. Research has shown (what is blatantly obvious to most of us) that credit use among people on low incomes can be a key strategy in making ends meet and is largely used to meet essential household expenses, such as utility bills, and to cope with problems related to on-going income inadequacy.
The lenders that cater for the needs of people who are excluded from mainstream credit provision fall into two broad categories: non-status lenders - such as finance houses, that cater specifically to the needs of people with a low credit rating; 'alternative' lenders - such as weekly collected credit companies and pawnbrokers, who serve people on very low or unstable incomes. Some people may not even be able to gain access to these sources of credit and have no choice but to turn to unlicensed, illegal moneylenders to meet their credit needs. These forms of non-stream lenders tend to be associated with exploitative behaviour such as hugely higher interest rates, poor conditions and unscrupulous sales practices.
Research done in the most deprived areas of Greater Gwent in Wales showed that more than one in ten people who had used credit had not been given copies of the paperwork relating to their loan, had felt they had insufficient information about the agreement, and even more worryingly had been threatened in some way, where as one in twenty five credit users who had experienced problems - almost certainly users of unlicensed moneylenders - had their benefit book kept by the lender as 'security' for their loan.
The campaigning group Impact, who work with communities to address the issues facing them, have revealed a catalogue of horror stories about debt in Sheffield. Increasing numbers of people are turning to loan sharks because they don't have enough money to feed their families. Little shops have opened in some areas offering cash loans to people and charging huge rates of interest, and people are handing over family allowance books as collateral. One shop in Gleadless apparently had a pile of family allowance books under their counter. Driven by a lack of a credit rating people are turning to predatory lenders to fund essentials like new shoes for their children or washing machines. Families in just three streets in the Manor were found to have collected debts amounting to £70,000, where as another woman had pawned her bracelet for £350 and was having to pay over £1000 to get it back.
The ramifications of the need to get into debt are high. Debt has a corrosive effect on communities. High-cost loans are stripping out money from poor neighbourhoods. People are paying off interest rather than using their limited income for their own good, and in local shops. The impact of unmanageable debt on an individual's life can be overwhelming. The Citizen Advice Bureau report that by the time people sought advice from the CAB nearly two fifths of clients said that they felt they could not cope and were feeling in crisis. Around one in eight CAB debt advice clients have started treatment for stress, depression or anxiety since their debt problems started. In many cases clients reported that the impact of debt on their lives had been devastating. Relationship breakdown, feelings of isolation and the stress of living on a tight budget had affected them deeply.
The problems with debt are widespread and affects a huge proportion of the population. The Financial Services Authority report that 6.1 million families report some difficulties meeting their debt repayments. Personal debt averages £4,426 per adult in Britain. As you would expect, those people on the lowest incomes are the most effected. Over half of households with serious debts have incomes of less than £7,500. Around 15 per cent of social housing tenants are behind with their rent at any one time – over half a million people. In 2001/02 housing association tenants owed £231 million and local authority tenants owed £403 million in rent arrears. In 2002/03 mortgage and rent arrears were the major causes of homelessness for over 5,000 households in England and Wales.
Until the fundamental causes of the need for debt are changed, people are always going to find themselves in situations where they need access to credit. People in Sheffield are both challenging predatory lenders in our communities and building alternatives. Credit Unions are being set up in communities to assist people with a savings facility and with low cost loans. Credit Unions are run co-operatively and are set up, owned and run by its members, and work by members saving together to create a pool of money from which low cost loans are made. A list of credit unions in Sheffield can be found on the Sheffield Credit Union Development Agency web site but it hasn't been updated in a while, there is a more upto date list on the Association of British Credit Unions Ltd site or you can find out about your nearest Credit Union by calling 281 2105.
Another organisation in Sheffield that can help and advise people traped in debt is Sheffield Debtline contact them on 255 5455.