Four people from Sheffield went down to The Land is Ours' action in Pembrokeshire, South Wales, to save the Brithdir Mawr eco-roundhouse and had a great time of very fluffy, very effective and creative direct action.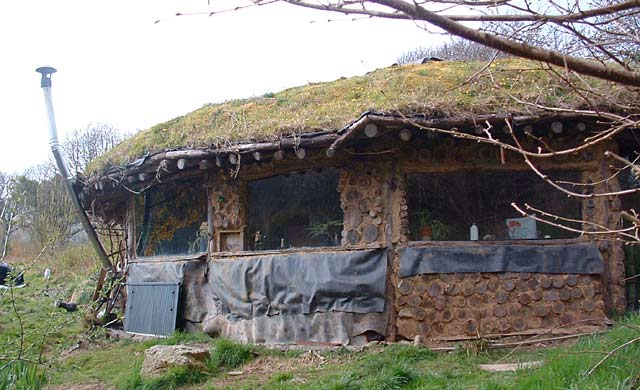 Tony Wrench's and Jane Faith's home that was due to be demolished this weekend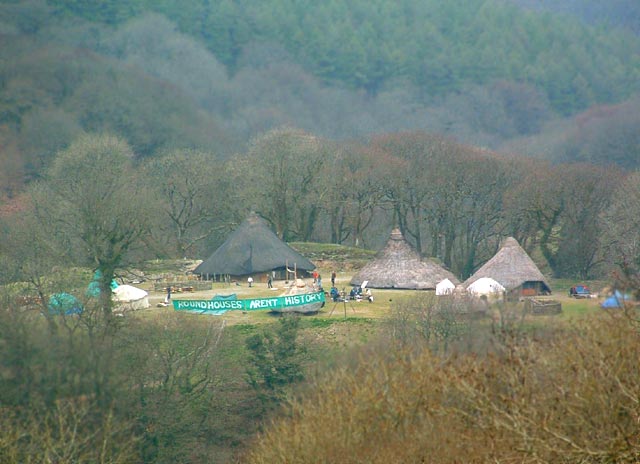 The occupied site at Castell Henllys provides a nice base for the weekend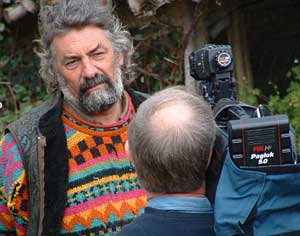 Tony Wrench interviewed for TV outside his now occupied house.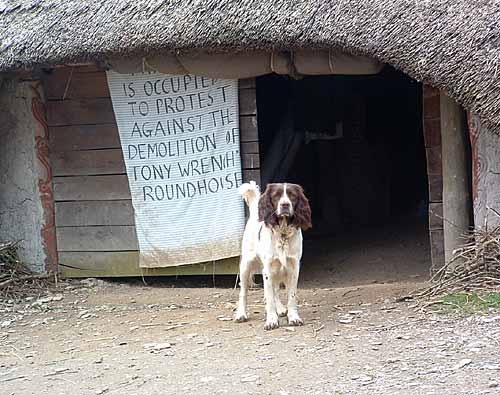 The squatted round house at Castell Henllys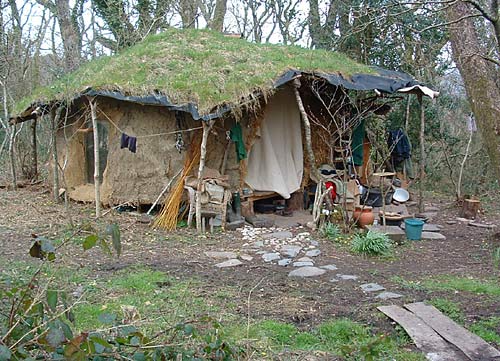 Another of five round houses at Brithdir Mawr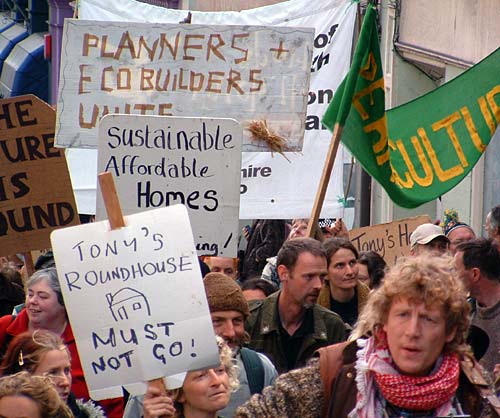 The demo to the offices in Haverfordwest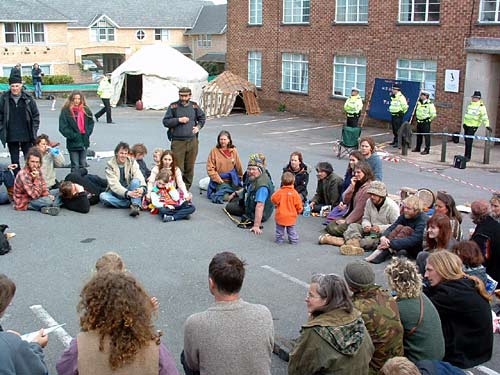 A decision is made to occupy the car park of the Pembrokeshire Park offices.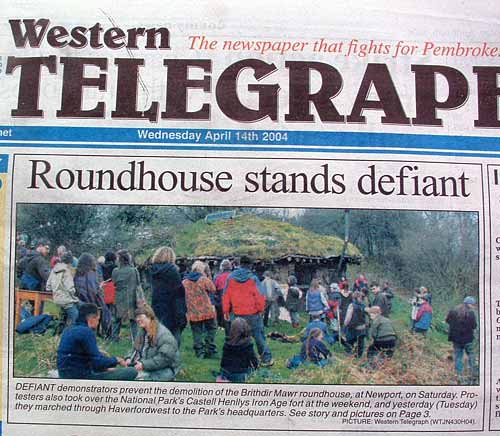 Headline news in the local press
Brithdir Mawr is small community just south of Newport in Pembrokeshire's National Park. The community is trying to find less destructive ways of living and seems to be doing a great job in the idyllic cottages and alternative buildings that make up the community.
The house
Five minutes walk from the community and hidden in the woods is an amazing experiment in low impact living. This is the house of Tony Wrench and his partner Jane Faith who built their home in 1997. The house is remarkable for a number of reasons. Firstly it is very well insulated with it's earth roof and uses local wood and solar energy for it's heating and lighting. Secondly the embodied energy to build it is extremely low because it is made mostly from locally sourced materials. There has been little transport energy used because of this and the timber is untreated too. Finally the cost of this beautiful low impact dwelling was incredibly low. Materials cost £2500 and it took some 400 man hours to build. That's about 10 weeks work for one person. Tony who designed it himself is neither an architect nor a designer.
The problem
A year or so after it was built the local planning authority - Pembrokeshire Coast National Park - found out about it. Tony has applied for planning permission but Pembrokeshire National Park planning committee continually refuse and in 2001 said it had to be demolished by July 2002. Since then various legal battles have ensued which basically got no where and last weekend Tony had planned to demolish his home.
Obviously people from all over the country (even the world) were pissed off about Park's planners decision and The Land is Ours decided to do something about it. Five days of action were planned and they turned out to be particularly effective too.
The occupations
Action mainly consisted of a number of surprise tactical occupations at key sites in the area.
The first one to take place was at Castell Henllys which is popular tourist spot because itself has a number of recreated ancient roundhouses. These got planning permission because that the National Park planners gave themselves permission to build them. No one lives in these dwellings, at least they didn't until the first surprise visit from us lot. Just around closing time on Thursday one of the houses was occupied and locked up. A section 6 notice was displayed on the door stating our squatters rights and our intention to stay and live there. A huge banner was erected that could be read from the main road that said Roundhouses Aren't History and a number of other dwellings and tents were also put up in the grounds.
This first occupation achieved a number of things. Firstly it provided us with a beautiful space to base ourselves for free for the weekend. Secondly it drew attention to the National Park's hypocrisy and double standards in allowing this type of dwelling. And finally it cost the National Park some money. This was Easter weekend and normally would have been a lucrative time for the National Park's tourist attraction.
On Good Friday people went off for the day to visit Tony's roundhouse. The aim was to try to persuade him not to take it down. He had already enlisted a whole bunch of people as his demolition squad. The demo did persuade him but to make sure the house was squatted by protestors. This meant Tony and his wife had to move out to one of the smaller roundhouses and they couldn't demolish the building because they would first have to get the squatters evicted.
This gave some people the chance to stay in the roundhouse too. The Sheff posse were lucky enough to stay over on Monday night and very interesting it was too. The benefit of the insulation could really be noticed by the way that one comparatively small wood burner heated the whole space equally. It's about 30 feet across.
On Sunday the third occupation took place. This was the occupation of some land by the side of the A487 (the main road to Castell Henllys) and the building of another roundhouse on it. This temporary, straw bale dwelling provided an alternative tourist attraction and an info centre about low impact dwellings was set up here.
The demo
On Tuesday the main site at Castell Henllys was decamped and everyone that was still around headed down to Haverfordwest for a demo to the Pembrokeshire Parks offices. This was an incredibly fluffy demo and before the demo started the police explained that they wanted part of it to take part on the pavement. I thought this was pretty crap but no one seemed to mind. The organisers probably didn't care know they still had their trump card up their sleeves.
The demo itself was OK. Very musical with bagpipes and drums and lots of kids and very hippiesque too.
When we arrived at the offices the police were obviously on the case and, not wanting to see reenactment of June 18th in this little welsh town, had a police photographer carefully positioned in one of the first floor windows. Just below a thin blue line of police cordon tape clearly showed us where could and could not go. But the whole thing was so chilled out and fluffy: there was food and music and kids and dogs playing in the small empty car park directly in front of the office buildings.
What we wanted was to talk to Catherine Milner, one of the planners who was refusing to give permission to the roundhouse and who wanted to see it demolished. This didn't seem a particularly demanding request as she had known about this demo for 3 weeks. But instead she sent a guy from the IT department. He said he couldn't answer any questions and was only there to take the petition.
This was incredibly lame on their part. The police officer in charge, Roger, said that Cathy didn't want to come out because she felt intimidated but she would see two people as long as there was no recording equipment and neither person was a journalist. Well no one too impressed with that. People had come from all over the place. For us it was a 4 - 5 hour drive.
After that we erected a second barrier in front of the police one so that no one could get too close to Cathy and intimidate her were she to come down. We also said there would be no shouting, that questions would take place through a facilitator and we would all remain seated throughout the dialogue. Well she didn't take up that offer and after that the police refused to relay any more of our requests back to her.
No one seemed sure what to do at that time until someone started drumming and some music started. Other people erected a yurt in a corner of the car park.
After the music was some discussion facilitated by Simon Fairlie of the Low Impact community Tinker's Bubble and Chapter 7. It was pretty clear what everyone wanted and that we weren't going to get it either. It was then that we played our ace card. Or maybe the Joker would be a better metaphor. We all agreed that we would now occupy the car park as a squat and were going to stay in the Yurt that we'd put up. A section 6 was added to the yurt and a hat was passed round to collect money. The aim was to get to get £220 so we could put in our own planning application for the Yurt in their car park!
At this point I can only imagine that Cathy Milner must have been seething. She wanted to avoid media attention but with this decision suddenly mainstream media became very interested indeed. I suppose they didn't have much news over the bank holiday and suddenly we were a national story. On some news programs this was the top story and one cameraman and interviewer came inside the yurt to do a live report!
Although the four of us from Sheffield had planned to go back it was such an amusing and surreal situation we decided to stay the night too. Around 20 people stayed the night and two tents were put up too because the yurt couldn't fit everyone in. We (from Sheff) left the next day (yesterday) but there were still around 10 people committed to staying longer as needed. According to a BBC news report [1] everyone has now left with some kind of agreement that the Park's planners will speak at a public meeting.
All in all it was a top weekend. The direct action was well thought out and executed as well as being effective and empowering. It was also pretty amusing too. The roundhouses were very interesting to visit and the main one which was due to be pulled down is still up. Whilst this is unlikely to be the end of the battle to save the roundhouse, it did feel like a powerful step in the right direction.
More info:

http://www.thatroundhouse.info

http://www.brithdirmawr.com

http://www.tlio.org.uk

http://www.thelandisours.org/chapter7/index.html

http://news.bbc.co.uk/1/hi/wales/south_west/3612541.stm

http://news.bbc.co.uk/1/hi/wales/3616589.stm
[1]

http://news.bbc.co.uk/1/hi/wales/3617737.stm

http://icwales.icnetwork.co.uk/0100news/0200wales/page.cfm?objectid=14140039&method=full&siteid=50082

http://www.thisispembrokeshire.net/pembrokeshire/news/NEWS0.html

http://www.pembrokeshirecoast.org.uk/english/planning/index.htm
Send messages of support for the Tony's roundhouse to:
Cathy Milner
Pembrokeshire Coast National Park,
Winch Lane,
Haverfordwest,
Pembrokeshire.
Wales, UK
SA61 1PY
phone: 0845 6347275
fax: (01437) 769045

cathym@pembrokeshirecoast.org.uk