People blockaded and occupied Marshalls in Mansfield Woodhouse today, in a protest against their involvement with quarrying at the 9 Ladies site in Derbyshire.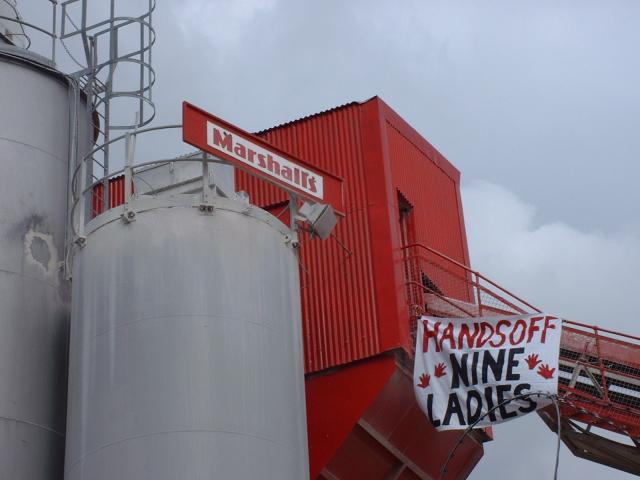 Protesters entered the office and obtained information about Marshall's suppliers, clients, and other offices (see below). A banner was hung off a tower, and vehicles were prevented from entering the site after the gates were D-locked. The staff were friendly, and quite sympathetic to the protestors actions.
Marshalls owns Stancliffe Stone which plans to reopen the two dormant quaries in the Peak Park near the Nine Ladies Stone circle. If you can't get up to 9 Ladies to support them, targetting their other offices would add useful pressure to the campaign. Names / addresses of their offices, clients, and suppliers found today are given below (this list probably isn't exhaustive - please look for more!
Offices of Marshalls:
Birkby Grange, Birkkby Hall Rd, Birkby, Huddersfield
Main A658, Street 9BA, Harrogate
Landscape House, Premier Way, Lowfields Bus Park, Elland, HX5 9HJ
Suppliers of Marshhalls
C&G, Longcliffe, Sibelco, GB Haulage, Appleby, Elementis, Bayer, Christeynes
Clients of Marshalls:
Longcliffe, Blue Circle, Tarmac Sand, OMYA, Calorgas, CAstle Cement, Go Plant