Free software / Indymedia / Wirless Networking / Hacktivism
Sheffield IMC (

http://sheffield.indymedia.org.uk/
) (Wiki (

http://docs.indymedia.org/view/Local/ImcUkSheffield
)) with help from SlugBug (

https://wiki.slugbug.org.uk/
) and ShefNet (

http://www.shefnet.org.uk/
), will be running a day-long media activist / free software / wireless workshop at the SSF launch event.

http://www.indymedia.org.uk/en/regions/sheffield/2004/03/287900.html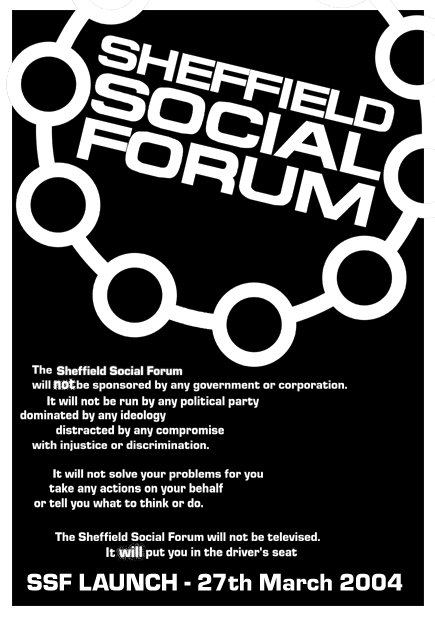 SSF Launch Image
SSF Launch: Saturday 27th March, 10am - 5pm, Royal Institute for the Blind, Mappin St.
The details of the Indymedia Lab are being sorted out on this wiki:

http://wiki.sheffieldsocialforum.org.uk/Indymedia_lab
following is a snap shot of some ideas.
* What is Indymedia? What can you can do to get involved? How to post your story to Sheffield Indymedia (

http://sheffield.indymedia.org.uk/
).
* What is a wiki? How can I edit a wiki page? (Feel free to play about with

http://wiki.halon.org.uk/
for anything you want - Neil)
* What is IRC? Intros to Internet Relay Chat.
* Using free software (eg mozilla (

http://www.mozilla.org/
)) for security and ethical reasons -- some SlugBug (

http://wiki.slugbug.org.uk/
) people will be there... mini install fest?
* Community wireless networking -- ShefNet (

http://www.shefnet.org.uk/
) / consumesheffield (

http://springnight.burngreave.net/mailman/listinfo/consumesheffield
).
* Low spec boxes as thin clients -- network terminal server.
* An irc/audio/wiki linkup with the WTF? event in London (

http://wtfcon.org/
)? they are using #esp on irc.freenode.org and this media lab will probably use #ssf on irc.indymedia.org