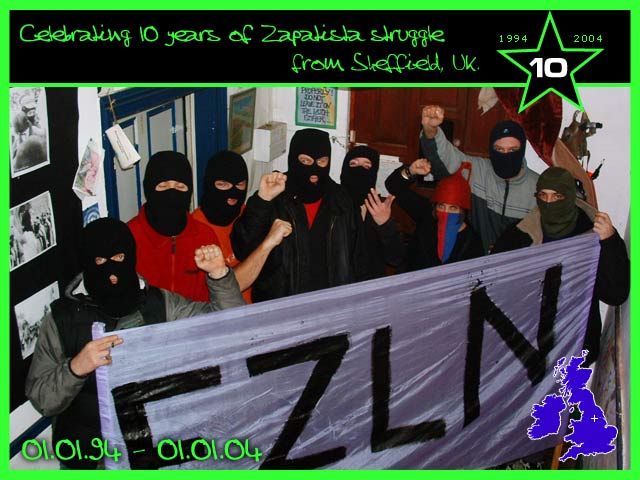 Solidarity with the Zapatistas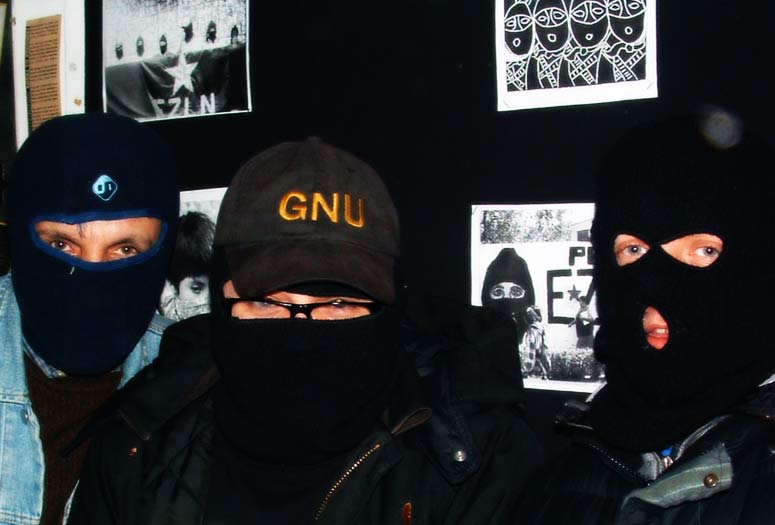 Check out the display behind the insurgents.
This new year marked the tenth anniversary of the Zapatista uprising. This insurrection was on the 1st January 1994, and it wasn't a coincidence that it took place the same day that NAFTA (North American Free Trade Agreement) came into effect.
In 1993 all the communities belonging to the Zapatista movement discussed the problems they faced and the majority of them voted for an armed uprising to regain their autonomy that had been lost over the previous 500 years. The uprising began in the early hours of 1st Janurary 1994 when the EZLN (the rebel army - Zapatista Army of National Liberation) surrounded a Mexican Army barracks in Chiapas (Mexico's most southern state). Five towns were occupied and a prison in Altamirano was stormed and 160 people were freed. 15,000 soldiers from Mexican Government Army poured into the area but after twelve days of fighting a cease fire was agreed and the Mexican government agreed to negotiate.
Since then most of the Zapatista struggle has been non-violent (at least on the rebels side) and the EZLN have said their most basic weapon is the word.
To mark the anniversery people in Sheffield held a Zapatista New Years party and celebrated by wearing the ski masks the Zapatistas are so famous for. The Sheffield Samba Band joined the party and there was an idea to go out on the streets around midnight. Unfortunately sleet and snow kept the party indoors.